Bankruptcy Attorney in Lapeer, MI
Working Long Hours, Perhaps Two Jobs and In Severe Debt?
Worried About Never Getting Credit?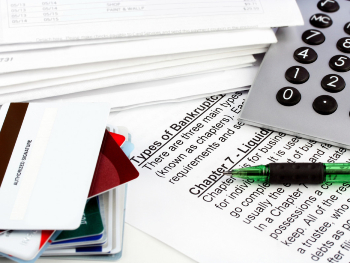 We have good news- bankruptcy may be able to provide you with the help you need. Debt can cause serious strain on your family, but our attorneys are here to make the process smoother for you and provide you with the guidance you need during this difficult time.
Our bankruptcy lawyers in Lapeer, Michigan can assist you in the following areas to reduce debt-related harassment and garnishments/foreclosures/lawsuits:
Chapter 7: Basic liquidation for individuals and businesses; the quickest form of bankruptcy available.

Chapter 11: Individuals or businesses with substantial debt and assets where a financial reorganization is necessary for the individual or business to continue to operate while they follow an approved debt repayment plans.

Chapter 13: Wage earner bankruptcy. Individuals with a regular source of income which requires the development of a plan to repay all or part of their debts over a period of time
Our bankruptcy attorneys help protect your rights, handle the complicated paperwork and legal process of filing a chapter 7, 11 or 13 bankruptcy; by handling the following on your behalf:
Reduce your stress and frustration by handling the detailed and complicated bankruptcy rules and regulations associated with filing for bankruptcy.

Minimize unpaid debt related harassment.

Help stop garnishments/foreclosures/lawsuits.

Help prevent utility turnoffs and license suspensions for unpaid judgements.

Help you develop the package of information necessary to prove and defend your entitlement for bankruptcy relief.

Handle the extensive bankruptcy paperwork in fulfilling all the local, state and federal bankruptcy requirements.

Help you obtain a fresh start from most unsecured debt.

Help in the reorganization of your personal or business operations to lead a less stressful life.

Help with the continuation of operations (stop foreclosures or repossessions) during financial and operational rehabilitation or reorganization of the business and help you come up with a plan for future operations to meet the requirements of Chapter 11 or Chapter 13 bankruptcy filing.
If you're facing mountains of debt and are worried about your financial future, contact our firm — the Law Offices of David W. Brown PLLC. We are located in Lapeer, Michigan and are dedicated to helping those find financial resolve so they can live a happier, healthier life.